Dude - Hiatus is
over
, and I got enough of my dissertation over with that I allowed myself to watch it. w00t!
( Spoilers )
O-kay then.
My dissertation is coming along alright, although I've become a
little
bit stuck on one of the sections. I'm on 3517 words out of 8000 now... so I'm
almost
half way. I'm aiming for 4k before the end of the day. Then if I can manage 4k ish tomorrow (Never going to happen) then I can spend Monday and Tuesday on the Shakespeare Essay, Wednesday and Thursday proofreading dissertation and hitting my head against a large wall, and then Friday handing dissertation in and packing. Oh, and going to the library to get the books out for the three essays I need to write over Easter. Yay!
Home in a week. Aargh.
Also, my washing is taking up half of my room and I'm sitting at an angle to the desk, which is killing my back.
And... in conclusion, MEME - from

kelene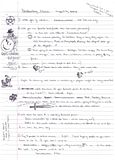 For those of you who don't want to be spoiled, I even added in a bi-ig space so you wouldn't be. Tags include - anyone who wants to do it.